Quality Certifications & Quality Control
Duke Extrusion is a division of Duke Empirical, Inc.
Duke Extrusion is committed to providing superior quality medical tubing and extrusions for the medical device industry. We maintain an effective quality management system (QMS) to create products that meet or exceed all defined customer requirements and regulatory specifications.
Our ISO 13485:2016 compliant quality system has been independently certified since 2003. The Duke Extrusion quality system defines the production methods associated with manufacturing our customers' products, including:
Contract review
Receipt and inspection of materials
Non-conforming material review and disposition
Supplier and purchasing controls
Process controls
Corrective and preventative actions
Calibration and preventative maintenance of equipment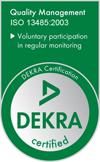 Quality assurance seal for contract engineering and manufacturing services for the medical device industry.
Process Qualifications
When the customer's needs dictate, Duke Empirical will guide new product introduction projects through four defined phases of development:
Definition
Design & Process Development
Qualification/Validation
Production/Build for Launch
Duke Extrusion maintains controlled copies of our customers' specifications for each product we manufacture. We do not make changes to products or processes that affect defined specifications without formal written approval from the customer.
We welcome our customers to perform on-site audits and inspections of our facility and quality system. Contact Duke Extrusion to learn more.